Workout
8 Tips for Maintaining Your Fitness Routine During Summer Travel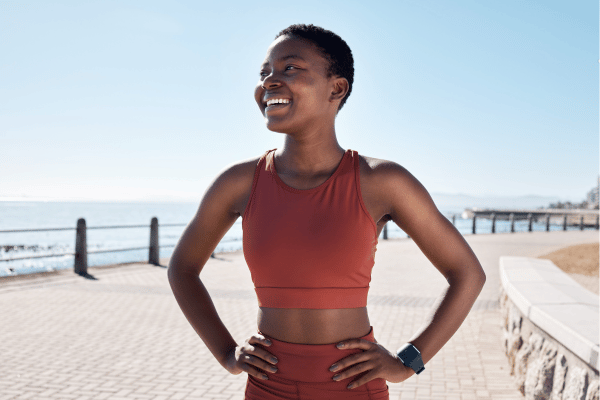 Summer is one of the best times of year! Not only is the schedule a bit more relaxed with the kids out of school, but many families are gearing up for adventure and vacation. Whether you are a solo traveler or bringing the family along, there are a few things that you can do to maintain your healthy habits on the road. Don't let your fitness routine fall to the backburner!
What are your strategies for keeping up with your fitness routine this summer? Here are a few tips to help you stay fit, no matter where your travels take you:
1. Book A Hotel with a Gym
The simplest way to workout on the road is to make sure that your accommodations include access to a fitness facility. Many hotels offer an on-site fitness room. Depending on the size of the hotel and the quality of their services, this gym might be small or a large, luxurious space.
Even the small hotel gyms can help you get the job done. All you need is a treadmill or Stairmaster for cardio, and a few free weights for strength training. If you need ideas or inspiration, then look on YouTube to find workout routines for hotel gyms.
2. Research in Advance
If your accommodations don't include access to an on-site gym, then spend a little time in advance to find a fitness facility near where you are staying. Planning the location in advance eliminates the need to do the research when you arrive at your destination. Keep the information and gym hours handy so you know when you can head over to fit in a quick workout.
Consider asking your hotel or accommodations host for recommendations. They can offer local advice to help you find the nicest fitness facilities in the area.
3. Schedule Active Adventures
Why not make your travel adventures part of your fitness routine? Look for fun activities that you can enjoy in the area that will keep you moving throughout the day.
For example, check out a local hiking trail, take the kids to the swimming pool (and swim laps while you're there), or go for a long walk to explore a new neighborhood. Every little bit of movement adds up to help you maintain a healthy and thriving lifestyle.
4. Respect Your Diet
It's ok to "let your hair down" and enjoy treats while you are on the road. In fact, sampling local foods is one of the best ways to experience the area. Don't miss out on these new flavors and dishes.
But just because you are traveling, doesn't mean that you can eat anything you want, whenever you want. Look for ways that you can stick to your dietary guidelines as much as possible, while still maintaining a bit of flexibility for cheat meals or treats.
For example, you might choose to eat a healthy breakfast (such as an omelet and fruit) and a well-balanced lunch (such as salmon and salad). Then plan something fun for dinner – head out to a local restaurant.
5. Consider Intermittent Fasting
Some people find that intermittent fasting is a great fit while they are traveling. Not only can you manage your calorie consumption throughout the day, but limiting your eating hours can be an effective way to save money. If you aren't skipping 1 – 2 meals per day, then it reduces the amount of money that you are spending on food.
Add up the costs for these skipped meals and you will see that it can be a significant savings over the course of a vacation. Instead of spending that money on food, treat yourself to a new outfit, souvenirs, or anything else that catches your eye while window shopping on your vacation.
6. Dedicate Time to Workout
It's easy to fill your schedule with a lot of fun activities. But don't forget to add time on the calendar for your workouts. As you are planning your tours and adventures, make sure to set aside time for your fitness routine at the beginning or end of the day.
Marking your workout on the calendar increases the likelihood that you will get it done. For example, if you know that the kids will be going down for a nap in the afternoon, then it might be the perfect time to do a bit of yoga or body-weight exercises while they are sleeping. Mark it on your calendar and make sure to follow through when it's time!
7. Get Up a Little Earlier
Yes, it's a luxury to sleep in while you are on vacation. But you will also feel great if you make it a priority to spend time working out. If you won't have a chance for fitness during the day, then it's worth waking up 30 – 60 minutes earlier so you can workout before heading out the door.
One of the ways you can ensure that you are getting up on time is to make sure that you are respecting a good bedtime. Then, you won't be too tired when it's time to get out of bed in the morning.
8. Walk Whenever Possible
Skip the car rental or public transportation and choose to get around the city on foot instead. Even though walking seems like a lower-intensity exercise, daily walking can really add up to contribute to your overall health and wellness.
In fact, researchers have found that walking after dinner can support digestion and help with blood sugar balancing. Regardless of the time of day, take a walk to fit in your steps and explore the neighborhood at the same time.
Fitness Support Close to Home
Are you ready for your summer vacation? If you want to be more confident in your swimsuit this season, then make sure you are tapped into the support and friendly environment at Fitness Nation. Our top-notch facilities help you stay healthy throughout the year. We offer quality equipment, nice facilities, personalized, support and more. Visit our convenient location to see the facilities that are available and learn more about training, classes, and other services that might match your summer fitness routine.