Diet
All About The HealthifyMe Smart Plan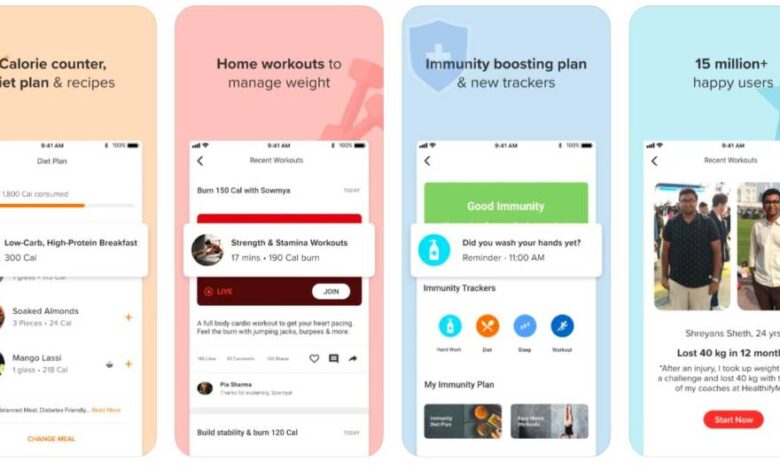 Wondering what all the HealthifyMe fuss is about? We're sure you've heard by now that millions of users are opting for HealthifyMe to track their meals and help achieve their health and fitness goals.
Doctors, nutritionists, and fitness coaches have been steering their trainees and patients towards the HealthifyMe platform, strongly advising them to use HealthifySmart as a means of maintaining their health and wellness, as well as a way to shed away those excess kilos.
To know more about the Smart Plan, check out the HealthifyMe Smart Plan for detailed information, honest user reviews, and expert advice. Introductory Offer – Get HealthifySmart 3 months at just₹2,000₹999
Watch this video to get inspired by how Srikanth healthified himself not just to lose weight but also to reverse his diabetes. Do you think it's time for you to get into shape and healthify yourself like Srikanth?
This is just one of the thousands of success stories to come out of using HealthifyMe. But how exactly does it work?
As mentioned above, Shivaram was told to use the platform by his family doctor; But a lot of users who knew little about the app were apprehensive and, to be honest, a little intimidated by the notion of committing to a fitness regimen.
"I was seeing all these reviews from people who have lost a lot of weight through the app, cured certain illnesses through exercise, etc, and it honestly made me think that Healthifyme made them undergo some sort of crazy boot camp to achieve those results. But it was quite the opposite. The app just integrates healthy habits into your daily routine that help you reach your goals in a realistic timeframe."

Says Neha from Kolkata, who has been using HealthifyMe for 4 months now.
HealthifyMe is a tried and tested fitness app that has successfully helped millions of users across India reach their weight loss goals, and is now spreading its magic touch around the globe.
The much-celebrated "Smart Plan" takes it a step further by getting to know users' likes and dislikes in terms of food, considers their personal tastes and preferences, and generates an AI-based plan which serves as a guideline to help users achieve their specific goals. 
But this is not just an AI-generated diet plan. HealthifySmart is much more than that. Users gain access to a tailored workout plan as well as direct chats with RIA, the interactive AI, who can help keep them on track by constantly monitoring, analysing, and sharing insights for areas of improvement. 
How Does an App do this?
Your first interaction with HealthifySmart begins with a vast menu of food items across different cuisines for you to choose from. Users select their favourite meals and ideal foods which they would like to keep on eating, even when on a strict diet.
The AI makes a note of your preferred dishes selected from your menu and begins to suggest a customised diet plan that will both benefit you nutritionally, as well as keep you well-fed and happy while working towards your fitness goals.
Users can edit the highly customisable healthy diet plan by asking the app for alternative suggestions in case they don't like the food being suggested, or if they're simply in the mood for something different.
Next, based on your current fitness level, HealthifySmart recommends easy home-based workouts which range from anywhere between 5 minutes to over 1 hour long. Each user's personalised workout plan is curated based on the availability of equipment, as well as target focus areas for workouts.
"Among my best decisions, installing and understanding the HealthifyMe app tops the list. I subscribed to the Smart Plan as it matched my daily schedule and comfort – It helped me track all my meals. Ria was my AI coach who would tell me my daily food routine. Ria would also analyze my unhealthy food cravings and provide me with an alternate healthy version. Beating the cravings and portion control was the biggest hurdle I faced, and the HealthifyMe app sorted that very quickly." says Vertika, who has lost 12 kgs in 3 months with HealthifyMe Smart Plan.
RIA, the interactive AI, plays a large part in keeping users on track. She constantly motivates you to better your diet and workout regimen and suggests ways to improve by sharing detailed insights and reports based on your personal inputs and usage of the platform.
Much like a casual performance review, RIA will help you find ways to improve the most important aspects, such as setting realistic goals, following a wholesome diet, maintaining your exercise regimen, and getting good sleep. HealthifySmart does all the tracking for you, all a user needs to do is be consistent and sincere in their efforts.
Users not only get a sophisticated interactive AI platform that is easy on the pocket, but also access to a wealth of features such as self-customisable diet and workout plans, weekly insights and reports, reminders as well as expert materials such as articles, videos, and more to aid them on their fitness journey.
Introducing HealthifyPro – The Future of Fitness is Here
HealthifyPRO offers CGMs provided by HealthifyMe with personalised diet plans to its users after recording the glucose level patterns.
These CGMs can even show alerts on your mobile phone if your glucose levels get too high or too low after consuming a food item, along with advice and tips on what to do to bring the levels back to normal.
To know more about the Smart Plan, check out the HealthifyMe Smart Plan for detailed information, honest user reviews, and expert advice. Introductory Offer – Get HealthifySmart 3 months at just₹2,000₹999