Lifestyle
An Honest Review of True Botanicals SuperSEA Firming & Lifting Treatment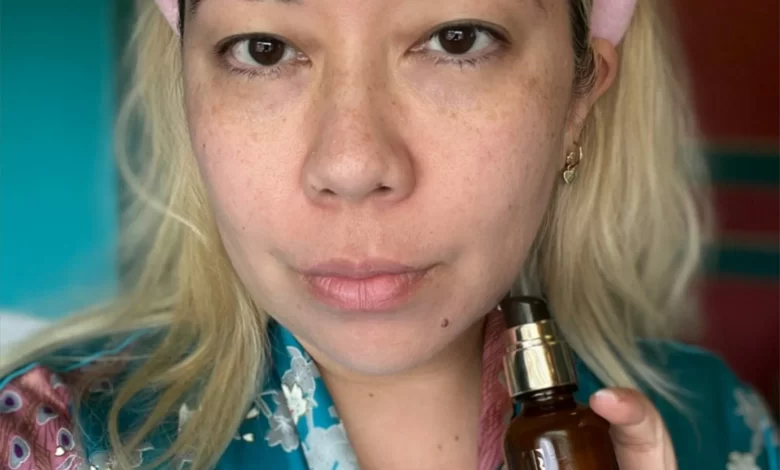 With the Well+Good SHOP, our editors put their years of know-how to work in order to pick products (from skin care to self care and beyond) they're betting you'll love. While our editors independently select these products, making a purchase through our links may earn Well+Good a commission. Happy shopping!
Explore the SHOP
Every morning when I wake up and see the chest wrinkles that have formed due to me sleeping on my side, I let out a heavy sigh. I know sleeping on my back will help, but my dog, who insists on sleeping as close as humanly possible to me, pretty much prevents my best efforts to do so. (Sometimes the little monster snuggles up so close that I am pushed to the edge of the bed—one move and I'd fall off!) I know that at some point I'm going to have to take the advice of Jennifer Lopez and Khloe Kardashian who both apparently sleep with pillows surrounding their bodies. I'm guessing they probably both have Alaskan King-sized beds. Until then, I'm using all the skin care I can to help. The newest addition to my routine is True Botanicals Supersea Firming & Lifting Treatment ($188). And it's actually been helping.
How it works
Founded in 2014 by Hillary Peterson after she was diagnosed with thyroid cancer, True Botanicals is one of the original "clean" skin-care brands that focuses on mindful ingredients before the green beauty craze swept the industry. The brand (which is beloved by celebs like Olivia Wilde, Laura Dern, January Jones, and Lizzo) uses natural or nature-identical ingredients, ones that are hypoallergenic, non-irritating, and can be easily absorbed into the skin via a smaller molecular structure. As it states in the name, this particular product, the Supersea Firming & Lifting Treatment, focuses on the firming of it all—ideal for people like me who are dealing with 40-plus skin concerns, like those dang chest wrinkles.
It contains the brand's proprietary SuperSEA Biocompatible 3XBlend™ technology, which is a powerful blend of seaweeds and sea minerals from four of the world's most nutrient dense marine ecosystems. (I honestly would love to see how they collect this stuff!) This complex delivers hydration to the skin. It also has moisturizing camelina oil, as well as algae oil, which is an Omega-3 powerhouse and helps with elasticity.
True Botanicals is also serious about its clinical trials, and the Supersea Firming & Lifting Treatment showed 92 percent of subjects reporting that their skin looked and felt firmer, tighter, and had more definition, while 100 percent said that their skin looked and felt smoother. All of that sounded good to me!
My honest thoughts
Firstly, I loved the formula. It has a lightweight consistency that falls between a serum or lotion, and a very calming floral scent that isn't overpowering. Treatment products sometimes tend to smell too chemically, which is a big turnoff for me. But this one smells so nice, I really enjoy applying every day.
As for results? I used the product for almost a full month and definitely noticed a difference in the texture and appearance of my chest. It felt smoother and had less lines. While I do still wake up with wrinkles on my décolletage, thanks to my side-sleeping (ugh), I've noticed that the wrinkles disappear a lot quicker than they usually do! I sincerely believe this is because of the SuperSEA treatment, since I haven't been using any other products in that area.
What everyone else says
I'm not the only one who's a fan of the treatment. "I really am seeing results! I am 73 years old and I am logical enough to know that I can only expect so much from any product that promises me something, truly I am quite pleased," one shopper says on the True Botanicals reviews page. "I could see results the next morning. My skin looks much more lifted and hydrated!! This one product is a keeper for me!!" another customer claims.
The downside is the price, as it costs almost $200. True Botanicals is a luxury skincare brand that uses high-quality, science-backed ingredients, so the brand's products are on the pricier side. So, I'd only use this if you have aging-related skin concerns. But if you wake up with chest wrinkles like me (and raise your fist at the sky in anger, Homer Simpson-style), or need help with loss of elasticity in other skin areas, the True Botanicals Supersea Firming & Lifting Treatment is one that I absolutely recommend.
Our editors independently select these products. Making a purchase through our links may earn Well+Good a commission.