supplements
Hate Horse Pills? Vitamin Gummies Are A Sweet Solution!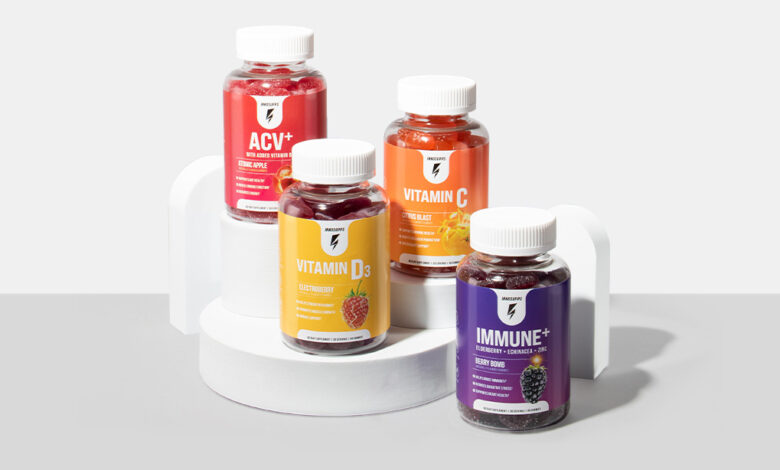 This is sponsored content. M&F is not endorsing the websites or products listed in this article.
Kids aren't the only ones reaching for gummies to get their daily dose of vitamins, minerals and other supplements. Gummy vitamins are increasingly popular among adults. In fact, some data shows that adults now comprise up to 80% of the gummy vitamin market.
Some adults are going the gummy route due to "pill fatigue." If you take multiple pills every day, you know it can become quite a chore. Many prefer gummies because they have problems swallowing pills, and for some, they are making the swap simply because it's a delicious low-calorie way to curb a sweet tooth. 
Whatever your reason for considering the switch to vitamin gummies, you need to do some extra homework compared to purchasing supplements in capsules, tablets and pill form. Consumer reports found that gummies were the most likely kind of supplement to fail testing, making it a lot harder to make a good gummy than it is to make a tablet or capsule. 
But it's not impossible — nutritional supplement company Inno Supps nailed it with their new four-supplement gummy collection.
Inno Supps formulated their natural gummies using the safest sources with no fillers, artificial flavors or sweeteners. Plus, they are manufactured in an FDA-approved facility in the United States, and each bottle undergoes rigorous third-party testing to ensure the vitamins contain precisely what is listed on the label. 
Read on to learn more about Inno Supps doctor-recommended natural gummies and why we believe they are grown-up gummies you can trust! 
The Four Gummies In The Inno Supps Gummy Collection

Inno Supps launched four health and wellness gummies as part of their new gummy collection. Each provides different essential nutrients and is an easy and delicious way to get your daily dose of nutrients for …

– Supercharged Immune Support
– Improved Collagen Production
– Antioxidant Support and Protection
– Mental Sharpness
– Improved Mood
– Natural Energy
– Healthy Weight Management

They all taste so good you'll feel like you are eating candy. But at 25 calories or less per serving, you can enjoy Inno Supps Gummies guilt-free with the bonus of a major health boost!
Here are the four gummies in the collection, what's in them, and how they can help fill nutritional gaps to improve your health. 
1: Immune+ Gummies

These antioxidant-rich Immune+ Gummies have five top vitamins and herbs that are known to provide antioxidant protection, supercharge immune function, and reduce oxidative stress. 
Here is a breakdown and what science says the ingredients can do to promote better health. 
Elderberry –

Has been used medicinally for centuries to fight infections, shorten the duration of cold and flu symptoms, clear up complexions and boost immunity. There are also studies that show elderberry can improve heart health and help improve blood sugar levels.

Echinacea –

If you've ever had a cold, chances are someone has suggested you take echinacea. Evidence shows supplementing with echinacea is a great way to supercharge immune support and boost immunity. In fact,

numerous studies found

that taking echinacea may lower the risk of developing colds by more than 50% and shorten the duration of colds by one and a half days.

Vitamin C – 

This vitamin is undoubtedly the most well known and studied for its antioxidant protection, immune support and natural energy boost. Vitamin C is used most often for preventing and treating the common cold. However, it is also known to help your body in other ways due to its ability to create a healthy inflammatory response. There is also evidence Vitamin C can help boost collagen production.

Vitamin D3 –

 There is a good reason why this vitamin is something most people should supplement with. Vitamin D not only helps provide antioxidant protection and a healthy inflammatory response, but it is also essential to build lean muscle and support healthy teeth, and bones.

Research

also shows that Vitamin D might play an important role in regulating mood.

Zinc –

 

Many people turn to zinc when they feel under the weather, and for a good reason.

Zinc is well-studied for its ability to boost immune system function and signaling.  
2: Vitamin C Gummies
As mentioned above, Vitamin C is the "go-to" vitamin to supercharge immunity and ward off illness. In addition to immune support, Vitamin C also provides a natural energy and endurance boost and can even help stimulate natural collagen production.
There is a healthy dose of Vitamin C in Inno Supps' Immune+ Gummies, but if ensuring your body is flooded with this age-old super vitamin is a priority, Inno Supps Vitamin C Gummies are the way to go.

Inno Supps' Vitamin C Gummies contain 180 mg of Vitamin C to meet your dietary needs and strengthen your body's natural defenses.
3: Vitamin D3 Gummies
We touched on all the health benefits of Vitamin D3 above. Everyone can benefit from more of what is known as the "sunshine vitamin," as it is essential for robust immune function and healthy teeth and bones.
But suppose you are an athlete or very active. In that case, studies show you might want a higher dose due to the vitamin's positive effects on building lean muscle and improving athletic performance. Studies found that most athletes are deficient in Vitamin D and should consider adding a Vitamin D3 supplement to their daily regime.
Vitamin D3 Gummies are naturally sweetened and contain 1,000 IU of D3 per serving to help keep your immune system in tip-top shape and you energized throughout the entire day!
4: ACV+ Gummies
Apple cider vinegar has a laundry list of antioxidant and anti-microbial properties and health benefits such as enhanced energy levels, better digestion and even weight loss. Inno Supps' ACV+ Gummies allow you to get all the benefits of ACV without the harsh taste.
But they didn't stop with only an effective dose of apple cider vinegar powder. Inno Supps ACV+ gummies also contain…
B12 –

Shown to help support energy levels, a healthy mood and improve focus, concentration and memory. Studies also show B12 may support bone health, red blood cell formation.

Beetroot Powder

– Boast tons of vitamins and minerals, and nitrates, which are shown to help improve vascular function and healthy blood flow. Studies also show beets might help maintain lower blood sugar levels after eating.

Pomegranate Juice Powder –

Rich in nutrients and antioxidants, pomegranates are well studied to help keep inflammation at bay, boost immunity, improve exercise endurance, support urinary and heart health, and possibly even sexual health.
Why Inno Supps Gummies Are Effective and Superior 
Consumer lab reports claim that many of the gummies on the market were tested by private companies and contained more or less than what is listed on the label. 
With Inno Supps, you can rest assured that what is printed on the label is what you get. They can say this with certainty because they take extra steps many supplement companies do not. 
Another factor to consider when shopping for vitamin gummies is that many contain a laundry list of hard-to-pronounce additives, fillers, preservatives, artificial flavorings, artificial food colorings, and gelatin. Inno Supps is widely known for having supplements that are clean and formulated with only the most trusted ingredient sources. All of their gummies are gelatin-free. Instead, they use plant-based pectin.
Another issue with many supplement gummies on the market is that they taste so good because they're loaded with sugar or artificial sweeteners such as sucralose. To sweeten their gummies, Inno Supps uses natural sweeteners, including tapioca syrup.
Final Thoughts On "Grown Up Gummies" and Inno Supps' Gummies Collection

As with any supplement, just because they have the same ingredients and even similar dosages does not make them equal. Gummy vitamins and supplements are no different.
You should always consider the company that formulates and manufactures a supplement. Considering gummies seem to carry a higher risk for dosage error and dangerous fillers, ensuring they come from a trusted source is essential. 
Inno Supps is no doubt a trusted supplement company. They take all necessary steps (and then some) to ensure their gummies are safe and effective. They even have numerous highly trusted physicians that enforce their supplements, including their gummies collection. 
If you are looking to switch from pills to gummies for a more convenient and delicious way to stay healthy, Inno Supps Gummies Collection is our top pick. 
You can get more information and place your order on the company website.