Nutrition
Spring Pizza With Asparagus and Herbs Recipe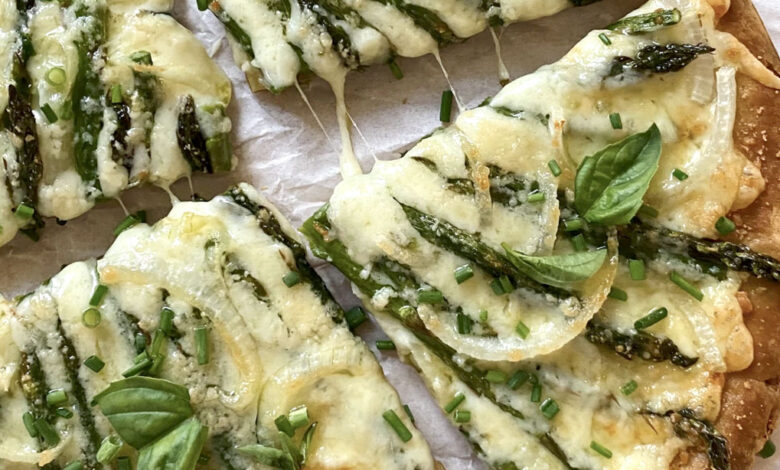 When you think of healthy pizza you may automatically envision cardboard crust and fat-free tasteless cheese—with an extra topping of broccoli. But here's the thing: You can actually make delicious, flavor-packed pizza, that can actually for you in fueling your body with the nutrients it needs to help support your gym goals rather than set them back by a few thousand calories (give or take).
Although pizza may not always be your healthiest option, it doesn't always have to be like that. And we're not talking about cheese-free or going crustless. "There are so many ways you can have pizza without feeling guilty," explains Chef Dena Marino, one of the country's preeminent chefs who has a big heart for pizza!
Chef Marino's highly reviewed and desired meals at MC Kitchen caught the attention of the Miami Heat, making her restaurant a regular post-game stop for much of the roster. Her work with the team eventually led to her current position as family chef for LeBron James and his family.
If it's good enough to satisfy King James, then with these tips, this worldwide favorite meal can be made in the comfort of your own home and enjoyed by your family and friends, guilt free.
Let's make a pie!
Tip 1: Enjoy the Crust
Carbs aren't the enemy and neither is pizza crust—as long as you craft it with health in mind.
"One way to do that is by building your own pizza using the chickpea crust from Banza," says Chef Marino, who helps the brand on creating some of its original pizza-making products.. For those who haven't created pizza dough from scratch, "Banza's crust makes it so easy to build a pizza with your favorite toppings, and the crust still comes out chewy and crunchy—just like a regular pizza." She says. On top of that, Banza pizza is loaded with protein which regular dough lacks—making it a perfect post-lift meal option.
Tip 2: Additional Clean Crust options:
If you're buying premade crust, make sure to choose organic, real ingredients.
Learn how to create your own homemade pizza dough. This allows you to avoid unnecessary ingredients like fillers that make pizza dough unhealthy. From there, you could include different ingredient crusts, such as:
1. Cauliflower Crust
2. Organic Flatbread
3. Almond Flour Crust
4. Zucchini Flour Crust
Tip 3: Be 'Choosy' With Your Cheese
Chef Marino is a big fan of cheese (aren't we all?). When it comes to a flavorful, clean cheese option, Chef Marino opts for Buffalo mozzarella cheese. "A lot of people don't know that this cheese comes from water buffalo milk, which gives it a much creamier taste and a higher protein content," Marino says, and it can be found right at Whole Foods. The bonus: You don't need much Buffalo milk cheese to get great texture and flavor which helps you save money and calories.
Tip: When selecting the healthiest cheese for your pizza, opt for Organic cheese with zero antibiotics, fillers, and unnecessary ingredients (Just like Italy). Talk to your local farmers or local grocery store employees to find a cheese that best fits your lifestyle and goals.
Tip 3: Get Saucy
When it comes to crafting your own pizza, the sauce is boss. Beyond the classic red sauce, Chef Marino enjoys using Pesto with vegetables as a tasty sauce alternative, as the pesto brightens their flavors.
A simple, chopped, fresh tomato cooked with Olive oil, onion, and garlic is another staple of Chef Marino's tomato basil pizza recipe. Not only is this easy to make but heart-healthy and packed with vitamins and minerals.
Tip 4: Pile On the Toppings!
Toppings are where pizza shines, and where lots of the nutritional value come into play. Marino encourages adding grilled chicken or turkey pepperoni for a lean protein option, and of course, lots of veggies.
"Sautéed spinach, kale, Swiss chard, charred, shaved Brussels sprouts, onions, raw or grilled zucchini, lots of sautéed mushrooms, fresh tomato slices, and lots of fresh herb," Marino recommends.
Other Topping Ideas: Olives, goat or feta cheese, bell peppers, hot peppers, mushrooms, artichoke hearts, and really, any of your favorite veggies would make a fantastic pizza topping. We'll let you decide on the pineapple.
Don't Forget Your Herbs: Also considered a topping and they pack on serious flavor: Basil, red pepper flakes, oregano, cayenne, thyme, parsley, Himalayan salt, black pepper, rosemary, and garlic.
Random Chef's Tips:
Invest in a pizza stone for your oven if you don't have an actual pizza oven. This makes a major difference in the texture and quality of your pizza.
Drizzle olive oil on your pizza after it's finished. (Healthy fats help boost of flavor)
Roasted garlic, basil, or Calabrian chili oil will provide your pizza with more depth and flavor while making it feel more indulgent.
Never use raw mushrooms on pizza—there are much more flavors pre-caramelized.
Now that your mouth is watering, here is a clean-take on "Spring" Pizza with asparagus and herbs from Banza.
SPRING PIZZA WITH ASPARAGUS AND HERBS
TIPS: A hot honey drizzle post bake will take this pizza up a notch! Shallot can be replaced with red onion if needed.