Lifestyle
Sweet Cherries Are the Key to Supporting Your Best Summer Skin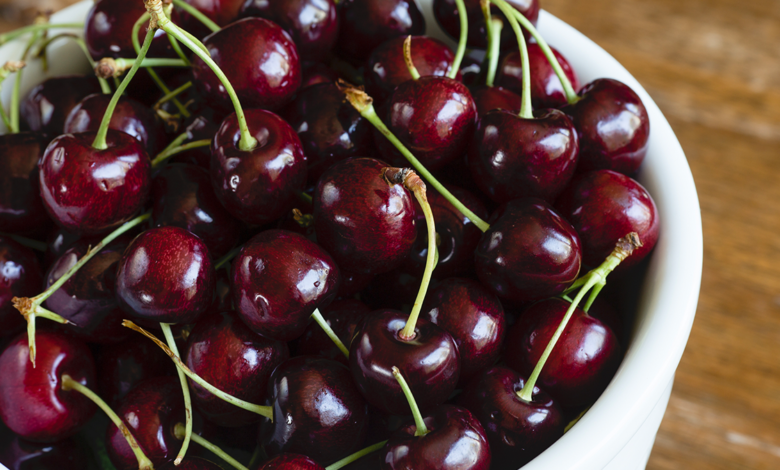 You've traded sweaters for swimwear and full-coverage foundation for tinted SPF… it's good to have you back, summer. While you jump at the opportunity to shed a layer and show some skin, your complexion might still be operating in winter mode. A little help here?
Before you frantically turn to your collection of scrubs and serums, hear this: You can support your summer glow and nourish your body while you're at it—just by adding a little seasonal fruit to your life. In fact, according to registered dietitian Lauren Manaker, MS, RDN, LD, what you eat plays a major role in the health of your complexion, and one superfood is leading the charge toward your best summer skin.
Enter Northwest-grown sweet cherries. When eaten consistently, studies show that this nutrient-rich fruit can help combat inflammation and muscle soreness, improve cognitive health, boost your quality of sleep, and more. And you can glow—oops, go—ahead and add skin-supporting to that list, Manaker says.
Here's why: To start, sweet cherries are a great source of antioxidants, which help stabilize free radicals that can otherwise lead to oxidative stress, potentially accelerating your skin's aging. They're also a natural source of vitamins A (which may help support your skin's natural hydration) and C (which plays an important role in collagen synthesis), Manaker says. And when it comes to sun protection, "vitamin C may also help combat the effects that UV rays may cause on skin," which is especially important in the thick of summer.
Sweet cherries are also a natural source of serotonin, melatonin, and tryptophan, compounds that may help improve the length and quality of your slumber. "There's a reason people refer to getting enough zzzs as 'beauty sleep,'" Manaker says. Ample rest allows your body's organs—skin included—more time to repair, restore, and return to their radiant state.
Manaker loves noshing on sweet cherries right out of the carton, whether she's on-the-go or enjoying an afternoon snack with her kids (high fiber and a low glycemic index make them a great sweet snack for little ones). If you feel like getting creative in the kitchen, though, try these simple and nutritious recipes. They're delicious in their own right, and the fact that they can also help support your long-awaited glow? Consider that the cherry on top.
Manaker loves kicking off her summer mornings with a healthy, nutrient-rich smoothie. Superfoods like Greek yogurt and chia seeds offer fuel for whatever the day brings, and fresh sweet cherries give this blend a gorgeous color and a rich taste.
To elevate any meal (fish tacos, anyone?) or instigate an impromptu happy hour, whip up a batch of sweet-and-savory salsa. Pair it with chips and margs, and feel free to advertise the secret dose of fruits and veggies—such as onion, bell pepper, garlic, jalapeño, and of course, cherries—you're serving up.
Speaking of happy hours, try an easy-to-assemble bruschetta for your next al fresco evening. This fun and colorful twist on a classic Italian appetizer is made with cherries, lime, and cilantro—all of which are antioxidant-rich (read: glow-boosting) summer staples.
The best part? These bites require minimal cook time, which Manaker says is key for entertaining during the hottest months. "Summertime calls for cooling foods that don't require a lot of prep in the kitchen." Check, check.
What says summer more than fish on the grill? Top a piece of wild salmon—or any other locally caught swimmers—with a sweet cherry chutney. It comes together with ginger root, which is packed with anti-inflammatory compounds that may help reduce redness and puffiness, and red wine vinegar, which contains antioxidants that may help fight skin damage.
Double the recipe and store this summery sauce for your next grilled chicken breast, veggie sandwich, or crunchy chopped salad. It's the gift that keeps on giving… and glowing.
You've found ways to incorporate sweet cherries into all your savory snacks and meals—now it's time for good, old-fashioned pie. As the cherries cook, their juices release and reduce, which creates a natural sweetness that's paired with less than one cup of added sugar. In other words, you can enjoy dessert for breakfast without that mid-morning crash.
Staying hydrated throughout the summer is critical, so don't forget to incorporate sweet cherries into your bevs, too. Mix together a big batch of this citrus punch, get creative with your favorite fruity add-ins, and invite your crew over for golden hour on the patio.
Ready to try these recipes—and tons more? Click here to add to your summer lineup, and discover all the glow-boosting benefits of cherries.