Nutrition
The Ultimate Guide To Add Extra Protein To Your Diet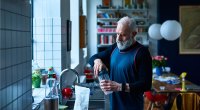 When it comes to making muscle, it takes two to tango. First we need the stress of exercise to stimulate the need to build muscles and then we need the extra protein to make sure that happens. In other words, you can't expect to build thick, 3D biceps by neglecting to eat enough of this macro. And since a little extra protein in your diet can help dull hunger you're less likely to stuff in too many calories when you eat more- one reason why higher protein diets are a boon to fat-loss efforts.
How much is enough? Step on the scale and then shoot for about 1.5 to 1.8 grams of protein for every kilogram you weigh (that's at least 116 grams for a 170-pound guy). This will help you achieve a positive net protein balance where muscle protein breakdown doesn't outstrip muscle protein synthesis.
Since you can only eat so much food over the course of the day, most fitness-minded guys will default to protein powders for an extra dose of muscle-making aminos. Certainly, a scoop or two of protein powder is an easy and convenient way to help make sure you get what you need. And while smoothies, shakes, or whatever you call them are a natural fit for protein powders of all guises, there are plenty more ways that you can utilize these powders in the kitchen for both flavor and nutritional gain. Whether making a muscle-building oatmeal, mixing up your mom's fabled cookie recipe or boosting your go-to pancakes, there's room for an added dose of protein. Why have a shake when you can have a cake?
Below are the tips you need to know to make your favorite protein powder work harder for your muscle-making efforts and the creative and delicious recipes that prove it's a multi-tasker ingredient. Shaker cup not required.
Tips To Incorporate Extra Protein In Your Daily Life
Here are some ways to give your favorite foods some extra protein love
Stir a scoop or two into a pot of cooked oatmeal.
Blend some powder into dips like hummus.
Add it to yogurt for an even bigger protein push.
Replace some flour with protein powder when making your Sunday pancakes or waffles.
Stir a couple of scoops into a jar of peanut butter or almond butter for a better spread.
Use it to add a protein boost to baked goods like muffins, cookies and brownies.
Incorporate protein powder into homemade energy balls and energy bars.
Try blending into pureed soups.
Unflavored powder can be a good binding agent when making burgers, meatballs and meatloaf.
Consider mixing in a scoop of unflavored protein powder into your mashed potatoes.
Unflavored powder can also be stirred into hot tomato sauce when its pasta night.
Culinary Considerations For Extra Protein Planning
Culinary mastery isn't required to incorporate extra protein powder in your meals, but it is also not something you should do without any thought. Keep these tips in mind the next time you reach for a tub of powder to beef up the protein of your meals and snacks.
Flavor matters: It is important to match the flavor of your protein powder to the recipe it's being used in. So a berry-flavored powder could be stirred into yogurt, vanilla would do well in a pancake recipe and plain powder is ideal for savory applications. After all, a caramel-flavored protein powder may not go over too well in a soup recipe.
Hold the whey: When used in baked goods like muffins, whey or casein protein powder tends to result in a rubbery, less tender texture if used too liberally. Generally, you don't want to replace more than 25% of the flour in a recipe with whey protein powder or you'll risk eating something that tastes like a tire. For better texture overall, it's advisable to try using plant-based protein powders for baking purposes as they are not as heat-sensitive as dairy proteins. A good rule of thumb, if you're looking to modify existing recipes, is to use 1/3 of a cup of a plant-based protein powder like pea for every 1 cup of flour.
Liquid assets: When stirring whey or plant-based powders into batters such as pancakes and cakes you should add a little bit more of a moisturizer such as yogurt, milk, applesauce or pumpkin puree to side-step dry results. Protein powder typically has a substantial drying effect when cooked. Also, don't over-mix the batter – stir gently just until everything is moist.
Turn down the heat: A slightly lower baking temperature than what is normal – say 325 degrees instead of 350 – will help keep protein powder infused baked goods moister so there is less risk of biting into a hockey puck.
Bury the scoop: Many powders come with a scoop that is convenient when adding the protein to your post-gym shake or something like oatmeal. But for recipes such as muffins and waffles where you want to use a specified amount, it's best to measure out the powder using measuring cups.
The cover-up: Some powders like pea and hemp can impart earthy flavors to dishes. Using ingredients like cinnamon, mashed banana or cocoa can help mask these tastes.
Trial and error: Finally, not all protein powders behave the same such as dissolving similarly, and the added ingredients in some formulations such as emulsifiers can change how they react in a recipe. So expect that you might have to give a recipe a couple of tries before you figure everything out. And you may have to switch powders to get the results you want.
5 Delicious Recipes that Contain Extra Protein
Sweet Potato Protein Hummus
Nobody will be the wiser that you snuck protein powder into this creamy dip. It's like hummus on steroids. It's also a killer sandwich spread.
1 medium sweet potato, peeled and diced
1 cup canned chickpeas, drained and rinsed
1/3 cup plain flavored protein powder
3 tablespoons tahini
Juice of 1/2 lemon
1 garlic clove, minced
2 tablespoons extra virgin olive oil
1 teaspoon smoked paprika
1/2 teaspoon cumin powder
1/2 teaspoon salt
Directions:
Steam or boil sweet potato until very tender. Let cool.
Place cooked sweet potato, chickpeas, protein powder, tahini, lemon juice, garlic, olive oil, paprika, cumin and salt in a food processor or blender container and blend until smooth.
Baked Banana Bread Oatmeal
Here's your answer to a make-ahead breakfast that will rock your taste buds. Reheat squares in the microwave and served topped with a dollop of Greek yogurt and berries.
Ingredients: Makes 6 Servings
1 cup steel-cut oats
11/2 cups rolled oats
1/2 cup protein powder
1/2 cup chopped walnuts or pecans
2 teaspoons cinnamon
1/4 teaspoon salt
2 large eggs
1/2 cup milk or unsweetened non-dairy milk
3 ripe bananas, mashed
2 teaspoons vanilla
Directions:
Cover steel-cut oats with water and let soak for at least 4 hours.
Preheat oven to 350°F. Grease a 9×13-inch casserole pan.
Drain steel-cut oats and stir together with rolled oats, protein powder, nuts, cinnamon and salt in a large bowl. In a separate bowl, whisk together eggs, milk and mashed banana. Add liquid mixture to oats and gently mix until everything is moist.
Place mixture in prepared dish and bake until topping is set and darkened, about 35 minutes.
Pumpkin Pie Protein Ice Cream
This easy no-moo "nice cream" has all the frosty sweet creaminess you'd expect in the real stuff but minus the calorie overload. Subzero bananas give you cold, creamy goodness for much fewer calories than dairy cream, while blending in protein powder makes it a treat for your muscles.
Ingredients:: Makes 4 servings
3 frozen chopped bananas
1 cup pumpkin puree
1/3 cup protein powder
1/4 cup almond butter
2 Tbsp pure maple syrup
2 tsp vanilla extract
1/2 tsp cinnamon
1/2 tsp ginger powder
Directions:
Place frozen banana pieces in a food processor or high-powered blender container. Turn the machine on and let it run until banana is reduced to the size of small pebbles. Scrape down sides of container and add pumpkin, protein powder, almond butter, maple syrup, vanilla, cinnamon, ginger powder and a pinch of salt. Continue blending just until the point where the mixture is creamy.
Serve your portion immediately and store the rest in an air-tight container in the freezer. For serving leftovers, let ice cream thaw for about 10 minutes to make it easier to scoop out. You can also microwave for 10 seconds at a time to soften slightly.
Masala Cauliflower Soup
Creamy soups are a great opportunity to sneak more vegetables and…who knew?… protein powder into your diet. A nutritious companion to any meal.
Ingredients:: Makes 4 servings
1 tablespoon oil
1 yellow onion, chopped
1/2 teaspoon salt
1 head cauliflower, cut into small florets
2 garlic cloves, chopped
1 tablespoon chopped ginger
1 tablespoon garam masala powder
1/4 teaspoon cayenne powder
1/4 teaspoon black pepper
2 cups vegetable broth
1/3 cup unflavored protein powder
Juice of 1/2 lime
1 cup unsweetened plain cashew or almond milk
Directions:
1. Heat oil in a large saucepan over medium heat. Add onion and salt; cook until onion has softened and beginning to darken, about 5 minutes. Add cauliflower, garlic and ginger to pan; heat 3 minutes. Stir in garam masala, cayenne and black pepper; heat 30 seconds. Pour in broth and 2 cups water. Bring to a boil, reduce heat to low and simmer covered for 20 minutes.
2. Place soup in a blender container along with protein powder and lime juice and blend until very smooth. Return to pan, stir in cashew or almond milk and heat through.
Lemony Blueberry Chia Pudding
This guilt-free pudding can serve as a nutritious dessert, post-workout recovery fuel or a make-ahead breakfast. For the latter, consider topping it with some crunchy granola before serving.
Ingredients: Makes 2 servings
1/3 cup milk or unsweetened non-dairy milk
1 cup plain Greek or Skyr yogurt
1 cup fresh or frozen (thawed) blueberries
2 scoops protein powder
2 tablespoons maple syrup
Zest of 1 lemon
1 teaspoon vanilla extract
6 tablespoons chia seeds
Directions:
Place milk, yogurt, blueberries, protein powder, maple syrup, vanilla, lemon zest, and a pinch of salt in a blender container and blend until smooth.
Divide mixture between two wide mouth jars, add 3 tablespoons chia seeds to each jar and stir to combine. Seal jar and chill for at least 2 hours.
Best Powders To Get That Extra Protein
Gnarly Whey Vanilla: Derived from grass-fed cows, this one mixes well into oatmeal and yogurt and is third-party NSF Certified for Sport so you know you are getting what the label says and nothing else. The addition of prebiotics and probiotics can help make your gut happy.
Dymatize Complete Plant Protein: Containing 25 grams of protein in a serving from five different plant-based protein types including pea and pumpkin seed, this powder is not a whey-free lightweight. And it's one of the less gritty plant-only options on the market.
ISOPURE Unflavored Zero Carb Protein: True to it's name, this whey protein isolate powder is free of any flavorings making it a better option for use in savory recipes or where you don't want the flavor of a powder to come through in the final results.
Bob's Red Mill Almond Protein Powder: Made from defatted ground almonds, each serving delivers 20 grams of nutty-tasting protein. You also get a bonus of good amounts of fiber, calcium, iron and potassium. One of the better options in baking and pancake recipes.
Vega Nut Butter Shake Peanut Butter: Made with peanut flour, this plant-based powder can instantly make any bowl of yogurt or batch of pancakes taste way more awesome. Flaxseed powder adds a little bit of heart-benefiting omega-3 fat.
My Protein Whey Forward: This one is unique in that it's made from tiny organisms called microflora, which when fed the same diet as a dairy cow, undergo a fermentation process and remarkably convert plant sugars into milk protein. The end result is a less environmentally costly protein powder that is essentially bioidentical to real whey protein meaning it contains plenty of the amino acid leucine which acts as a primary trigger for muscle growth. Plus, there are fun flavor options like cinnamon cereal.
Timeline Mitopure: Whey protein is beefed up with Urolithin A, a compound that appears to improve how the mitochondria of our cells perform through a crazy process called mitophagy. The outcome might be better muscular strength and endurance.