Lifestyle
This Affordable Foot Mask Saved My Dry, Winter Feet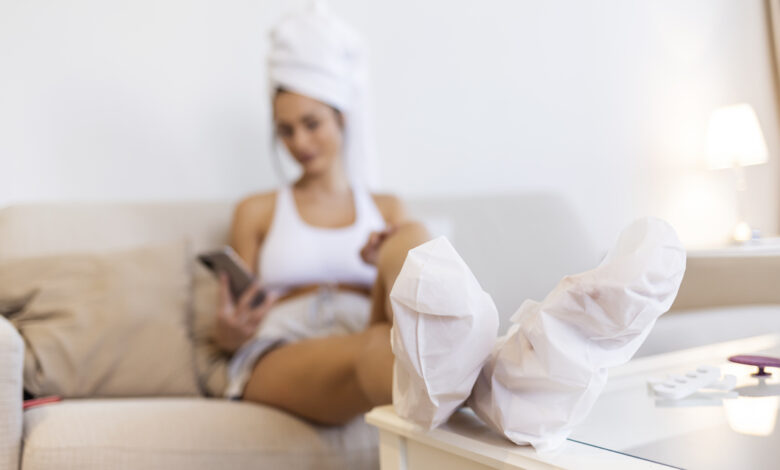 With the Well+Good SHOP, our editors put their years of know-how to work in order to pick products (from skin care to self care and beyond) they're betting you'll love. While our editors independently select these products, making a purchase through our links may earn Well+Good a commission. Happy shopping!
Explore the SHOP
I don't know about you, but I unknowingly relegated my feet to "out of sight, out of mind" territory while stomping around in boots for the past couple of months—which means I've been seriously slacking in the foot care department. But now that sandal weather is right around the corner (ish), I'm doing damage control to address my dry, cracked feet.
We're also in a recession, which means I don't want to spend a ton of money doing it—frugal foot care only please! Enter this affordable foot mask I found on a recent trip to Target. The Aveeno Cica Repairing Foot Mask ($4) is a single-use pair of "slippers" that promises to nourish and repair extra dry skin and leave feet looking soft and smooth. Soft, moisturized feet for less than my usual Starbucks order? Suffice it to say that I couldn't add these babies to my cart fast enough, and I'm so glad I did—here's why.
If you've ever tried one of those viral foot peeling masks or used a glycolic acid toner on your feet, the Aveeno Cica Repairing Foot Mask is not that (though it can certainly be used in conjunction with either one). It's a gentle, one-and-done foot treatment that blankets dry, crusty feet in comforting, skin-softening moisture. The "cica" in the name actually refers to the French word "cicatrisation" or "healing," which is exactly what my neglected feet needed. And thanks to the foot mask's hero ingredients—prebiotic oat (which also happens to be the hero of the brand's sensitive skin-friendly face moisturizer) and shea butter—that's exactly what they got.
The foot mask contains oat kernel flour, oil, and extract, all of which are beloved by derms for its soothing properties that work wonders on irritated, eczema-prone skin. "[Oat] is very soothing and helps improve the redness and inflammation," Audrey Kunin MD, board-certified dermatologist and founder of DERMADoctor previously told Well+Good. In the foot mask, the prebiotic oat helps soothe and protect dry feet, while keeping dryness at bay. Another beloved skin-soother, shea butter delivers that intense nourishment that my dry feet had been deprived of all fall and winter long—softening my dry, cracked heels and coating them in calming moisture.
I slipped my dry feet into the foot mask slippers (and put a pair of socks on top as added insurance), and kept them on my feet for 10 minutes, as instructed. Before I was done watching my YouTube video, my 10 minute timer went off, and I removed the slippers, massaged the excess product into my feet, and put on socks to help it absorb overnight. Because the last thing the internet needs is a foot pic by yours truly—believe me when I tell you that the next morning, my feet felt softer and more moisturized than they had in months. My dry, cracked heels had soaked up all of the mask's moisturizing lotion as I snoozed and looked visibly improved.
While it's not a miracle worker, the Aveeno Cica Repairing Foot Mask is the perfect no-fuss foot maintenance that my foot care routine desperately needs during the colder months. Which means I'll always have a couple of these stashed in my cabinet going forward. And for less than $5 bucks? You can't go wrong. Find yours at Target.
Our editors independently select these products. Making a purchase through our links may earn Well+Good a commission.