Lifestyle
This Moisturizing Retinol Cream Is About to Be All Over Your Social Feeds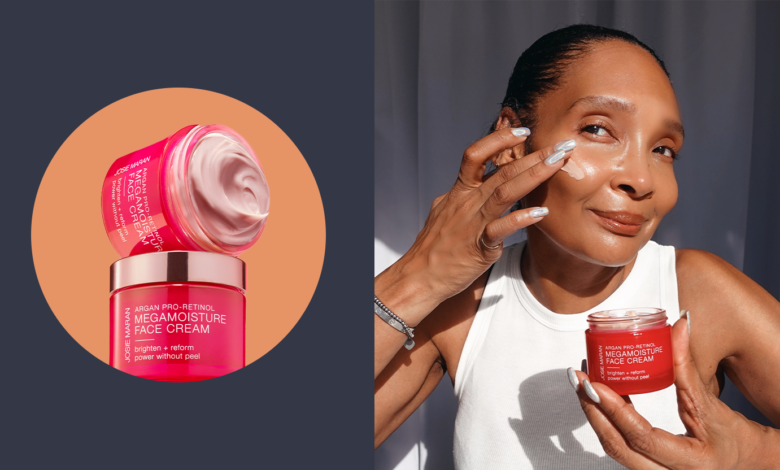 You've ushered in the season of beanies and boots with ease. But while your wardrobe and your social feeds might love a cozy winter moment, your rosy cheeks probably don't.
No matter what your skin type is, chilly days might leave your skin-care routine itching for an assist. That's why this time of year, beauty buff Salina Williams, 51, looks for skin-care solutions that "scream hydration," while still offering the brightening and tightening qualities she prioritizes.
Usually, those benefits would require (at least) two different products, but not so with internet-favorite Josie Maran's newest launch: Pro-Retinol Megamoisture Face Cream. "We all love the effects of retinol, but we know it can be extremely irritating," Williams says. "The pro-retinol cream gives you all the benefits without the irritation, and that is amazing."
Uniquely formulated to support your skin's elasticity, brightness, and texture, the moisturizer targets fine lines and pores—without causing the dryness, redness, irritation, or peeling that's common with traditional retinols. "Its rich and fluffy soufflé-like consistency cocoons your skin," says founder Josie Maran. Sounds cozy, right?
According to Williams, this hydration blanket can benefit everyone—from a Gen Z-er getting proactive about skin care to someone with more mature skin. And that was Maran's intention from the start. "I designed Pro-Retinol Megamoisture Face Cream…for all skin types," she says. "From wrinkle-smoothing and firming to brightness-boosting and moisturizing, there are mega-benefits for everyone." Prediction: You're about to see this moisturizer everywhere.
Keep reading to learn why Josie Maran's new moisturizing pro-retinol cream is the skin-care solution beauty buffs are loving.
A mega-moisturizing formula
"When I was in my 30s, all my friends started using retinol to target fine lines, wrinkles, and loss of firmness," Maran says. "I was all on board…until I did some research and saw that the ingredients in these retinols didn't align with my skin-care standards, nor did they agree with my dry skin."
That's what led her to create the Argan Pro-Retinol collection—originally a serum, eye cream, and whipped body butter—as a cleaner, safer, and non-irritating alternative. The new super-hydrating moisturizer rounds out the formula as its fourth essential step.
Like Josie Maran's other pro-retinol solutions, the Megamoisture Face Cream is infused with 100% Pure Argan Oil. "Rich in compounds naturally found in skin, argan oil is a biomimetic match, meaning skin recognizes it on contact," Maran says. As one of nature's richest sources of essential fatty acids, it instantly hydrates for an all-over glow.
Alongside argan oil, the cream is packed with more than 30 moisturizing ingredients—including shea butter and sodium hyaluronate, a smaller-molecule form of hyaluronic acid—to help restore your skin's bounce and resist dry, wintry air. The result? After incorporating the moisturizing pro-retinol into her daily routine, Williams saw a noticeable difference in her skin. "These ingredients all work together to hydrate, plump, and brighten!"
Innovative ingredients
Beyond the classic moisturizing mavens, Josie Maran's face cream relies on innovative natural ingredients to boost your skin's health and give it all the dewy feels. At the top of that list is pink-algae extract. "The algae originates in a beautiful, bubblegum-pink Australian lagoon," Maran says. "Rich in beta-carotene (a form of vitamin A), it tackles fine lines, wrinkles, and uneven skin texture without any redness, drying, or peeling."
Add in nourishing aloe leaf juice, purifying watermelon seed oil, and fruit-pulp extracts that help stimulate the cellular turnover process, and a dime-sized dollop of Megamoisture Face Cream sets you on your way toward brighter, smoother skin that's ready for any kind of weather.
Sustainable production
Alongside non-irritating, moisturizing ingredients, Maran considers the environmental impact of all of her products, too. "I come from a legacy of women who taught me to appreciate the importance of protecting the environment and our natural resources," she says. "As a brand founder, sustainable ingredient sourcing and production is an important part of that."
Josie Maran's moisturizing pro-retinol cream fits the bill with planet-conscious ingredients, pink algae included. According to Maran, "to avoid damaging the lagoon's precious ecosystem, a small portion of pink algae is transported to our lab, where it naturally propagates, regenerating over and over. This [ensures] no wildlife or algae ecosystems are disrupted in our sourcing process."
That commitment is important to Williams, too. She looks for beneficial ingredients that prioritize both the planet and her personal skin-care concerns. "Making sure we reduce our carbon footprint is something we should all care about," she says.
Knowing that her own choices are supporting the environment and her complexion, Williams can turn her attention to supporting her followers on their skin-care journeys. "I strive to let my followers know that we need not fear aging," she says. "With age comes wisdom, and every year can be a chance to start over. It is never too late to take care of you and your health, skin, mind, and heart." So as this new year kicks off, give yourself—and your skin—some cozy, cocoon-like care.