Weightloss
The 4 Worst Exercises for Weight Loss & What To Do Instead
When your goal is weight loss, you're likely looking for the most efficient route to take—and for good reason. Amid a hectic schedule, your time at the gym and in the kitchen is precious, so no moment should go to waste. To ensure you're making all the right decisions in your workouts, we chatted with Caley Crawford, NASM CPT and director of training and experience for Row House, who shares some of the worst exercises for weight loss. Ditch them and swap them out for more effective alternatives ASAP.
Not all exercises are created equal when you're looking to lose weight. According to Crawford, the below moves aren't necessarily terrible for your weight loss efforts, but there are certainly more productive alternatives out there that'll help you achieve your end goal. "First, know what your desired outcome is. From there, you can build the right program for you," she explains.
Keep reading to learn about the worst exercises for weight loss so you're on the right track. And next, don't miss 7 Simple Dumbbell Exercises To Lose Weight in 30 Days.
A healthy combination of cardio and strength training is key for weight loss.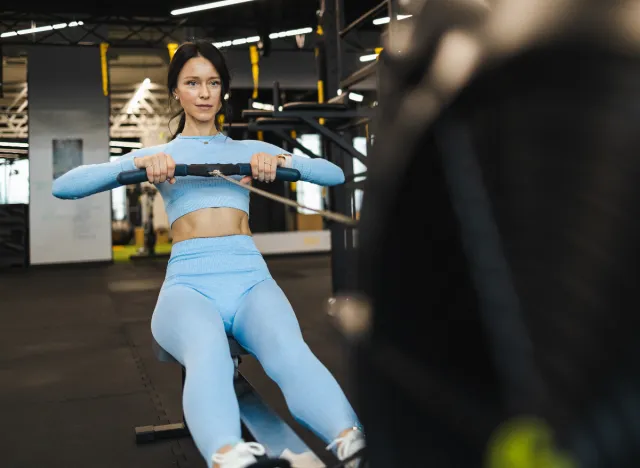 Shedding excess weight requires you to sculpt lean muscle and torch calories, Beaumont Health explains. Needless to say, adding strength work and cardio to your regimen is the name of the game.
Crawford is a fan of total-body work for an efficient fitness routine. You can work out all of your muscles while checking off strength and conditioning in 30 minutes to an hour. You'll usually want to focus on strength training first, which is necessary to build muscle and burn fat, and then focus on your cardio or conditioning aspect.
For strength, Crawford suggests functional exercises such as hip hinges, squats, and lunges. For the conditioning portion, she recommends pairing moves together to "accomplish the most work" in minimal time. To bump up the intensity, add resistance and tempo. Exercises like burpees and rowing are total-body moves that will recruit more muscles and result in "quicker heart efficiency and conditioning results."
These are the worst exercises for weight loss:
Crawford shares four exercises you should consider ditching and replacing with more efficient moves that support weight loss.
1. Doing Cardio on the Elliptical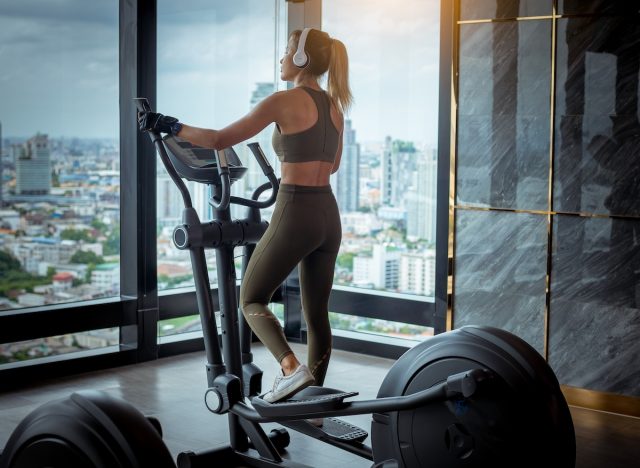 "The elliptical doesn't allow for you to find resistance while increasing heart rate," Crawford explains. "The resistance on the elliptical is also typically slowing you down."6254a4d1642c605c54bf1cab17d50f1e
Instead of wasting time on the elliptical, opt for rowing instead. Rowing helps you achieve a greater amount of resistance and intensity while bringing your heart rate up. "The resistance on a concept2 rower especially is exponential," Crawford adds. "You [won't] 'max out' a rowing machine—there's always more resistance that can be generated by the user. So with rowing, you get the cardio and strength in one, all while being full-body. It's also a full range of motion in the hips, knees, and ankles, whereas the elliptical is not."
2. Lat Pulldowns
Crawford also suggests ditching the lat pulldown machine for pull-ups. Even if you need to perform assisted pull-ups, that's still the way to go. "Pull-ups will recruit more muscles and are more functional. Your core is much more active in a pull-up versus the lat pulldown," she explains.
3. Classic Pushups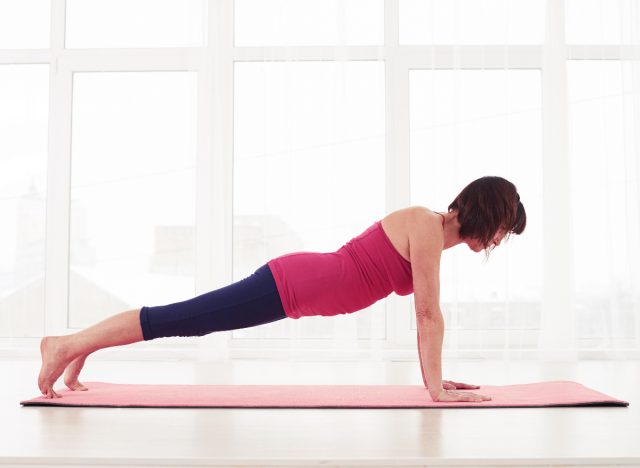 Typical pushups are all well and good, but Crawford says hand-release pushups will activate a full range of motion. "I see [many] people doing half pushups where they don't go all the way down to the ground. It's better to do a full range of motion; you'll build strength [much] faster," she explains.
4. Climbing Steps on the Stair Master
Last but not least, leave the stair master behind and do some walking lunges instead. According to Crawford, "Lunges will give more range of motion than the stair master, recruiting more muscles while still having the lower-body strength and glute work that you're normally looking to achieve on the stair master. Another way to think about it is lunges will get you good at walking up the stairs. Walking up the stairs doesn't necessarily make you good at lunges."
Alexa Mellardo
Alexa is the Mind + Body Deputy Editor of Eat This, Not That!, overseeing the M+B channel and delivering compelling fitness, wellness, and self-care topics to readers. Read more about Alexa