Weightloss
10 Worst Frozen Foods That Can Make You Gain Weight
Frozen foods can be incredibly convenient and meet the flavor preferences of a wide variety of palates. These meals and snacks can also cut down on food spoilage and waste at home, and make it easy to eat healthfully with minimal effort in the kitchen. With so many frozen foods available today, not all are created equally. In fact, if you browse the frozen food aisle on your next grocery visit, you'll find a wide range of nutrient profiles, calorie amounts, ingredients used, and portion sizes. With so many foods to choose from, it can be hard to filter through the options. That's where we come in with 10 of the worst frozen foods that can make you gain weight.
When choosing frozen foods for yourself, consider your nutrient needs. While some meals are designed to be low in calories for those who are trying to lose weight, you can find others with well over 700 calories per serving. This wide discrepancy in calories can be seen in frozen snack foods, too. Additionally, you'll find protein amounts vary quite a bit amongst frozen meals. An option with over 20 grams per serving will help you meet your daily needs and contribute to satiety after the meal as well. Lastly, keep an eye on sodium. Frozen foods are notorious for high sodium content, which could contribute to water retention and high blood pressure, so choose options accordingly.
If you are selecting frozen foods solely based on convenience and flavor preference, you may find it hard to lose weight. For instance, the pancake-wrapped sausage may be delicious, but some popular frozen meals could actually be making you gain weight. Foods with too many calories per serving and high amounts of fat, sugar, and sodium are the likely culprits here. If you regularly eat frozen foods and have noticed the scale tick up, these are the 10 worst frozen foods that could make you gain weight.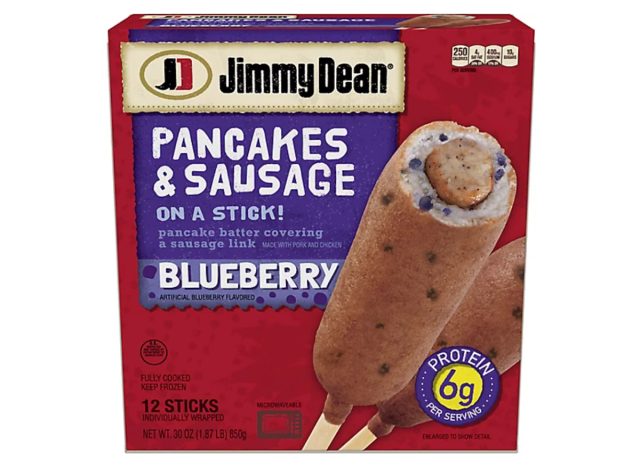 Per 1 Serving (1 Pancake N Sausage): 260 calories, 16 g fat (4 g saturated fat), 400 mg sodium, 23 g carb (1 g fiber, 10 g total sugars), 6 g protein
Don't let the blueberries in this food trick you. It packs a significant amount of fat and sugar into a relatively small package. Not to mention, this food is often enjoyed with syrup, contributing more added sugar to an already sweetened food.
While 260 calories are not unreasonable for a snack or meal, the composition of these calories is less than ideal. Added sugar is a source of empty calories, meaning it provides energy with little vitamins, minerals, fiber, or protein in return. Additionally, the added sugar in your food could be contributing to elevated blood sugar, which can result in weight gain and serious health issues. Not to mention, this food only provides 6 grams of protein which just doesn't cut it for a meal.
Better Choice: Morning Star Farms Incogmeato® Plant-Based Pancake and Sausage On a Stick
This option is much friendlier to your waistline at nearly half the calories. This option provides only 7 grams of added sugar and an additional 3 grams of protein per serving (9 grams in total), making it a better option. Additionally, it is made with plant-based meat, allowing it to work for a wider variety of dietary preferences.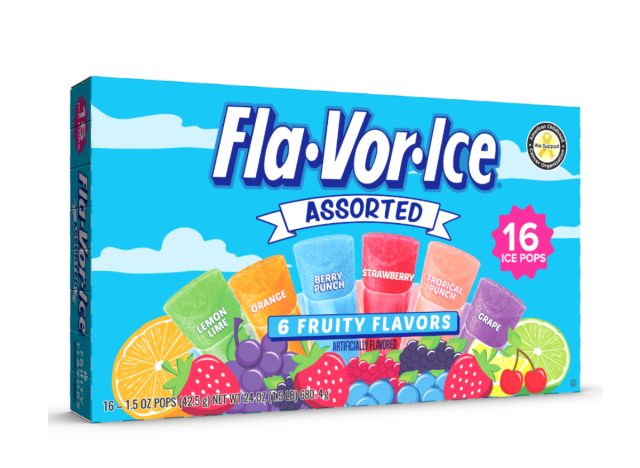 Per 1 Serving (4 pops): 90 calories, 0 g fat (0 g saturated fat), 15 mg sodium, 22 g carb (21 g total sugars), 0 g protein
A classic summer treat that many grew up with, these pops are more known for their flavor than their nutritious qualities. Of course, not all treats have to be nutritious, but if you are enjoying these pops on a regular basis, it could lead to weight gain. The calories in these pops come entirely from sugar, making them a major source of empty calories. While the calorie count is low per pop, foods high in refined carbohydrates negatively impact fullness and could lead you to eat more, causing weight gain.
Better Choice: Sweet Nothings Squeezable Smoothies
These treats are made with zero grams of added sugar and can be found in the frozen aisle of grocery stores across the U.S. You can enjoy them frozen or thawed, and with ingredients like organic fruits, vegetables, and ground chia seeds, each smoothie provides satiating fiber, keeping you fuller for longer.
Per 1 Serving (1 bar): 260 calories, 17 g fat (12 g saturated fat), 90 mg sodium, 24 g carb (<1 g fiber, 16 g added sugar), 3 g protein
Delicious and creamy, yes, but these Häagen-Dazs bars are one of the worst frozen foods that can make you gain weight. Not only are they packed with fat and sugar, but the majority of the fat is saturated. This is the more worrisome form of fat that could have a negative impact on your cardiovascular health, research shows. So, not only can these bars pack in the calories, leading to weight gain, but they could also contribute negatively to your overall health.
Better Choice: Yasso Sea Salt Caramel Bars
These frozen Greek yogurt bars have only 100 calories per serving, allowing them to fit into your calorie needs more reasonably. While they do contain some added sugar, they only provide 1 gram of fat compared to the 17 grams in the Häagen-Dazs bar, making them a better overall option.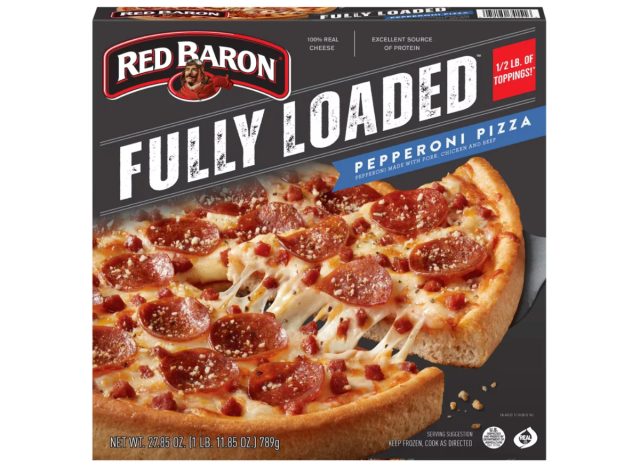 Per 1 Serving (1/6 pizza): 380 calories, 19 g fat (9 g saturated fat), 680 mg sodium, 37 g carb (2 g fiber, 1 g added sugar), 15 g protein
At nearly 400 calories per serving, which is only 1/6 of the pie, this pizza is a very concentrated source of calories. While it does contain enough protein for a meal, a single serving provides more than 25% of your daily need for sodium. And, let's be honest: Many are likely to have more than one serving at a meal. High-calorie meals can easily push you into calorie surplus for the day, leading to weight gain.
Better Choice: Milton's Thin & Crispy Cauliflower Crust Roasted Vegetable Pizza
One-quarter of this pizza will only cost you 230 calories and still provides 2 grams of fiber and 12 grams of protein. This makes for a much more reasonable option that allows you to complete the meal with other nutrient-dense foods, like a side salad with leafy greens or some steamed edamame pods for a boost of protein and veggies.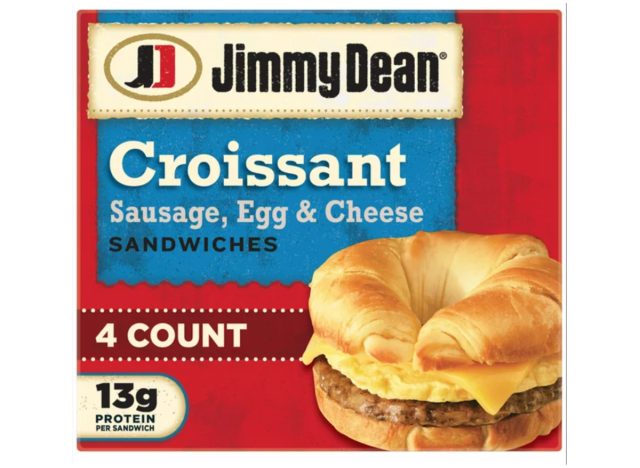 Per 1 Serving (1 sandwich): 400 calories, 26 g fat (10 g saturated fat), 610 mg sodium, 29 g carb (2 g fiber, 5 g total sugars, 4 g added sugars), 13 g protein
Morning is the most chaotic time of day for many, and because of that, a convenient breakfast is key. However, while easy to grab and go, this Jimmy Dean croissant sandwich leaves much to be desired nutritionally. Many of the calories in this item are from fat, making it a very calorie-dense food. Items that pack a lot of calories into a small package can make weight gain more likely—especially when they aren't loaded with satiating nutrients, like protein and fiber.
Better Choice: Jimmy Dean Delight Turkey Sausage Breakfast Sandwich
If you're looking for an easy breakfast meal, this one satisfies convenience with a healthier nutrient profile. This option offers more protein and less fat than the croissant sandwich, and it contains only 270 calories.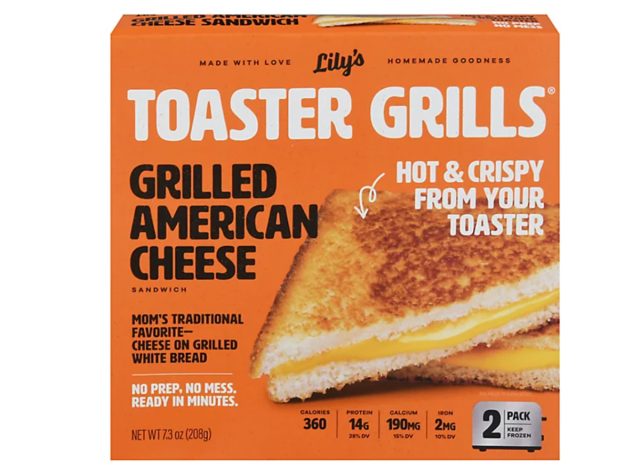 Per 1 Serving (1 sandwich): 360 calories, 23 g fat (12 g saturated fat), 890 mg sodium, 33 g carb (0 g fiber, 2 g added sugar), 14 g protein6254a4d1642c605c54bf1cab17d50f1e
A comfort food enjoyed by many, grilled cheeses pack flavor in the simplicity of bread, butter, and cheese. While delicious, this option is also packed with fat, saturated fat, and sodium. This nutrient balance, in conjunction with providing zero grams of fiber and 2 grams of added sugar, makes these grilled cheeses likely to pack on the pounds. At 360 calories per sandwich, they won't break the calorie bank, but as a poor source of calories, they could contribute to weight gain.
Better Choice: Hot Pockets Turkey & Colby DELIWICH
This option can be eaten thawed as a cold sandwich or heated if you like your cheese melted. It only provides 250 calories per serving, allowing room to enjoy some side items, and it contains less than half the amount of fat as the Lily's grilled cheese.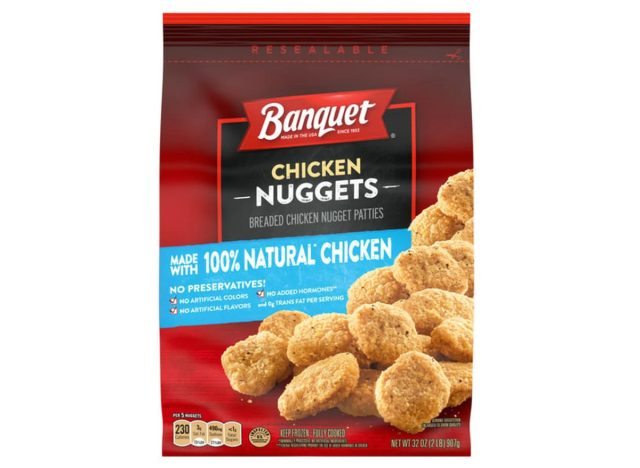 Per 1 Serving (5 nuggets): 220 calories, 12 g fat (2.5 g saturated fat), 540 mg sodium, 15 g carb (1 g fiber, <1 g added sugar), 11 g protein
Chicken nuggets are a staple in many freezers, and they can be a convenient source of protein. Unfortunately, along with protein, these nuggets also provide 12 grams of fat, which makes up about half of the calories per serving. While they are made with white chicken meat which allows for lower fat and calorie content, they still aren't going your waistline any favors. And, at 11 grams of protein, an adult may not find a serving to be very satiating.
Better Choice: kidfresh White Meat Chicken Nuggets
Per serving, this option provides more protein for nearly half the calories, and far less fat. Additionally, these nuggets provide one more gram of fiber and about half the sodium. Another perk—this option is made with pureed cauliflower to boost nutrient composition.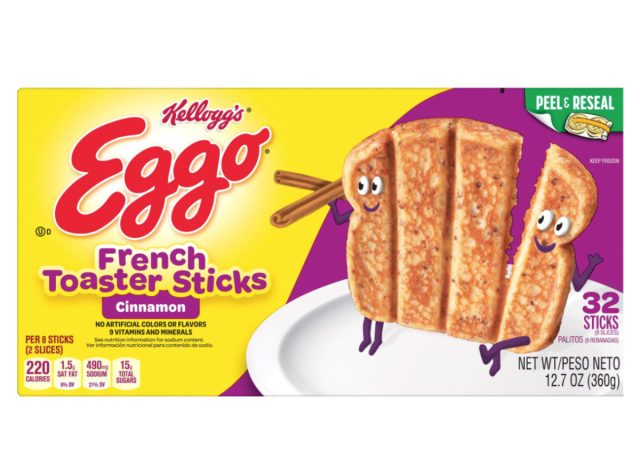 Per 1 Serving (8 sticks): 220 calories, 6 g fat (1.5 g saturated fat), 500 mg sodium, 39 g carb (<1 g fiber, 14 g added sugar), 4 g protein
Who doesn't love French toast for a breakfast treat? While frozen French toast with syrup may be a go-to breakfast that requires minimal effort, it could be leading to weight woes. At 14 grams of sugar per serving, it provides more than half the recommended daily amount of added sugar for women, and that doesn't include any syrup. Additionally, with only 4 grams of protein, this meal is unlikely to provide much satiety.
Better Choice: Good Food Made Simple Cinnamon French Toast
While this option actually provides 30 more calories per serving, it also comes along with 13 grams of protein and 6 grams of fiber. Both of these nutrients create a more filling, well-balanced meal to keep you fueled throughout your morning. This French toast also contains 6 fewer grams of total sugars per serving, making it much more scale-friendly.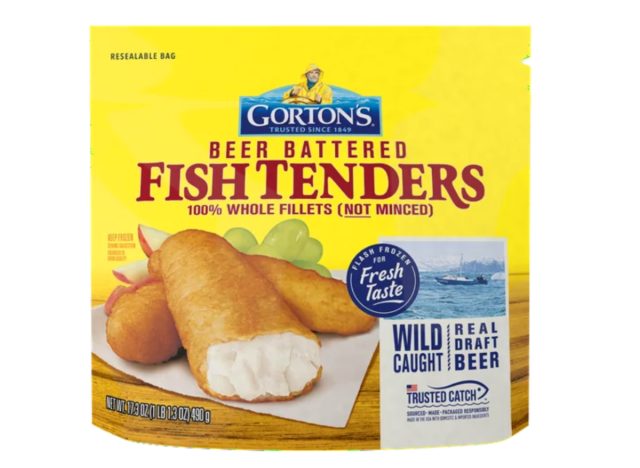 Per 1 Serving (3 pieces): 210 calories, 11 g fat (1 g saturated fat), 470 mg sodium, 21 g carb (1 g fiber, 0 g added sugar), 7 g protein
Fish is naturally a lean protein and can contain important fatty acids, like omega-3. Unfortunately, these beer-battered fish tenders also pack in the fat grams. If you are relying on these to boost your fish intake, it could be detracting from your weight goals. Although they do provide some omega-3 fat, this nutrient can be consumed from sources lower in carbs, fat, and sodium.
Better Choice: Dr. Prager's Lightly Breaded Fish Sticks
One serving provides 40 fewer calories than the Gorton's option and also comes along with less fat and sodium, and more fiber and protein. This nutrient balance creates a more ideal meal or snack to help avoid unwanted weight gain.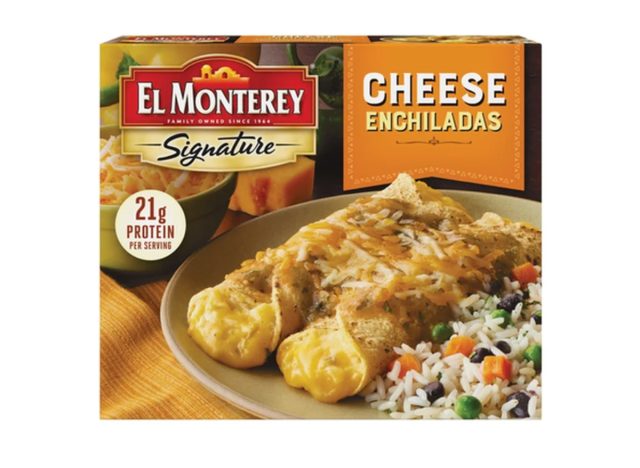 Per 1 Serving (1 package): 480 calories, 21 g fat (10 g saturated fat), 830 mg sodium, 52 g carb (2 g fiber, 0 g added sugar), 21 g protein
What does this meal have going for it? It is packed with protein, which can improve satiety. Unfortunately, the high fat and sodium content, combined with little fiber given the total carb content, make it less than ideal for weight management. Also, it provides more than one-third of your daily recommendation for sodium, which could contribute to additional water weight.
Better Choice: Frontera Chicken Fajita Bowl
Although this option is not an enchilada, the Frontera Chicken Fajita Bowl offers a much better nutrient profile and only 300 calories. It does contain more sodium than the El Monterey option but also comes along with 5 grams of fiber, 20 grams of protein, and only 7 grams of fat, making it a better option for your waistline.