Fitness
How to Become a Successful Personal Trainer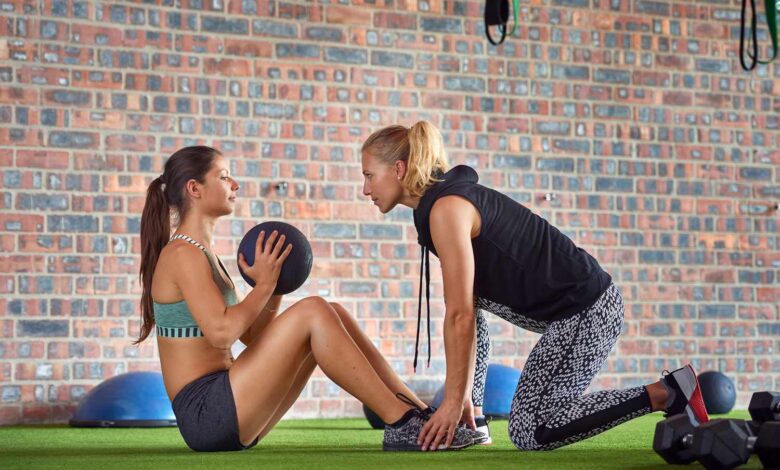 Becoming a personal trainer can be a good career choice if you love fitness and helping others achieve their goals. As a fitness enthusiast, you may have already done unofficial personal training over the years; perhaps you've coached or created a fitness plan for yourself. But there are more steps to take to get certified as a personal trainer, find employment, or set up your own business. Learn more about this career to decide if it is the right one for you.
How to Become a Personal Trainer
Decide if personal training is right for you and weigh pros and cons.
Get certified with a professional certifying organization (ACE, NASM, ACSM).
Find a job that suits your goals and personality.
Consider specializing.
Continue your education.
Consider starting your own business.
Go above and beyond.
Decide If Personal Training Is Right for You
From the outside, personal training often looks like a satisfying career, and it can be. You get to help people achieve their goals in a field you love, it's flexible, and you have lots of options for where you can work. There are some great things about personal training, but it's important to look at every angle before taking the plunge.
Just like any other specialized field, personal trainers need to have a variety of skills. Between coaching clients and building personalized training plans, a successful personal trainer must be analytical, motivational, and nurturing. To be an effective trainer, you should enjoy working with different kinds of people, be self-motivated, and a good listener. Organizational skills, patience, and a healthy dose of persistence can also help elevate you in this competitive industry.
Challenges
Before diving into this new career, it's also helpful to know what it's like to do the job day in and day out. Of course, you can perfect your client training expertise with time. Learning about the day-to-day of the personal training business is something you can pick up when you get certified, but hands-on experience is always the best teacher. Training may seem like a breeze, but it's tougher than you may think.
You'll work with clients who:
Are afraid to push too hard or want to push harder than they should
Are not compliant with the workouts you give them
Blame you if they don't reach their fitness or weight loss goals
Cancel with little or no notice
Have all kinds of excuses for why they can't or don't exercise
Have injuries or other conditions
Have never exercised and need good modeling for even the most basic of exercises
Show up without workout shoes or other necessary exercise gear
Every person is different, and you need to be able to determine how hard you can push that client, what that client needs, and what they want. You also have to be flexible and ready to change on a dime if a workout isn't going well.
Pros and Cons
Pros
Flexibility

Fulfillment

Growth Potential

Relationships
A career in personal training comes with many exciting and enriching benefits. From the work itself to the client connections, here are some of the best parts of personal training:
It's flexible. In many cases, you can set your own work schedule. You may even be able to set your fees if you work for yourself.
It's rewarding. There's nothing better than that moment when a client can finally see and feel the difference in their body thanks to your help.
There is room for growth and variety. Personal training can often be a jumping-off point for other things like being a fitness instructor, a health writer, or pursuing higher education. 
You get to build relationships. If you're good with people, personal training gives you a chance to delve into each client's situation, get to know them, and then use your knowledge and creativity to create workouts that fit them.
If you decide to become a personal trainer, you should also be prepared for the challenges that come with it. While the journey and job can have gratifying aspects, consider these when choosing to pursue the personal training path:
Peak hours are those that are most convenient for the client. Clients may need to cancel or reschedule without much notice. And most will want to train either before or after work and on weekends, so your busiest hours will often be on the weekends and very early in the morning or late at night on weekdays.
You'll have to learn to sell your services. Most people don't get in the business because they love selling, but that is a part of your job, especially if you work at a commercial gym. You'll need to be part-trainer as well as part-marketer, selling your training services to potential clients.
There is a wide range in pay. Personal trainers can make anywhere from $15 per hour to more than $100 per hour, depending on where they live and work and their level of experience. In addition to your hourly rate, your income will also be tied to how many hours you work and can fill each week.
Income may not be stable. Cancellations happen all the time in personal training. One day you may have a full schedule and the next, no one to work with, which often means you're not getting paid.

There is an increased risk of burnout. Personal training takes a lot of energy, both physical and mental. It's easy to get burned out, especially if you're training all the time.
Get Certified as a Personal Trainer
If you've decided personal training is for you, your next step is to get certified. The most important factor in the decision of where to obtain your certification is whether the certifying organization has been accredited.
Certifying organizations have their certification procedures and protocols accredited by an independent third party, such as the National Commission for Certifying Agencies (NCCA). If there is a specific employer you want to work for, find out what certifications they require or recognize.
Do your research and look for answers to the following questions at the websites for certifying organizations:
Can the exam be taken online, or must you attend an on-site examination? If on-site, where and when are the exams offered?
Does the exam require attendance at a workshop or seminar, and where are these offered? Is it a home study program?
How much does it cost? The costs vary from about $300 to more than $1000 and may not include the study materials and workshops.
Is it a national/international certification? Is it universally recognized?
What are the continuing education requirements to renew the certificate? Completing a certain number of continuing education (CE) hours is a requirement of most certifications and will be an extra expense and commitment to consider.
What are the prerequisites for the exam? Most require a high school diploma, a CPR certification, and that you're at least 18 years of age at a minimum.
Certifying Organizations
While there are others, these are some of the well-known certification organizations and their accreditations:
Find a Job as a Personal Trainer
As a personal trainer, you may be an employee of a business or work as an independent contractor for them. You may also train clients independently. When just starting out, many new trainers choose to work for an established business to get experience. Some ideas for employment opportunities include:
Commercial gyms: Popular gyms such as XSport, 24 Hour Fitness, Gold's Gym, and Planet Fitness hire new trainers all the time. The drawback can be lower pay, working on commission, lots of selling, and having to work long hours doing new member orientations to get new clients.
Corporate fitness: You can work for a company that offers corporate wellness packages for businesses wishing to improve their employees' health.
Cruise ships: Many cruises offer personal training for guests. Online resources such as Cruise Ship Job Finders allow you to search for a variety of cruise lines for different jobs.
Hospitals or wellness centers: Many hospitals employ personal trainers to help patients recover from illnesses and conditions. These opportunities may require a higher degree or a specialty for working with clients who may have health challenges.
Local community centers: Check with your local community centers or park district to find out about local clubs that hire personal trainers. Almost all fitness clubs have personal training available, which may be a great place to start.

Personal training studios: Studios focus almost entirely on personal training and small group training. Because they're so specialized, they may require more experience or education, but as a result, they will also typically pay more.
Spas and resorts: All-inclusive resorts sometimes hire personal trainers or fitness instructors to teach exercise classes. Online job boards like Cool Works and ResortJobs.com provide job listings for parks, resorts, and spas.
Consider a Specialty
Over time and with experience, you will develop a sense of which types of clients you most enjoy training. You can then invest in further education and get a specialty certification. With a specialty, you will have more to offer these clients, and you can usually charge a little more for your services. Most certifying organizations offer several specialty certifications, and you may get a discount if you already have a basic certification.
Options include:
Athletics and sports: You can help athletes improve their balance, speed, agility, and performance.
Lifestyle and weight management: You can work with clients on behavior changes to turn around bad habits and develop healthier ones.
Medical: With medical specialty like the Medical Exercise Specialist certification offered through ACE, you can work with post-rehabilitation clients who are recovering from conditions such as heart problems, muscle sprains, or orthopedic surgery.
Nutrition: With this add-on certification, you can help clients with the diet portion of their fitness goals, giving them specific advice on how they can eat healthily and lose weight.
Orthopedics: You can work with clients who have knee pain, arthritis, or other conditions.
Special populations: With this kind of certification, you can work with older adults to help them improve their quality of life and maintain muscle mass, or you can work with younger kids to build fitness programs that fit their age and goals.
Continue Your Education
Continuing education is a requirement for keeping your certification current, whether or not you choose to pursue a specialty. It also keeps you up to date on the latest in fitness, weight management, and health. Your certifying organization will offer courses, workshops, and other ways to earn credits, but there are other ways to stay informed and keep learning.
Start a Business
Once you get certified and gain some work experience, you may decide to set up your own business as a sole proprietor, limited liability company (LLC), or corporation. If you are an independent contractor for a gym rather than an employee, you should learn the advantages and disadvantages of these forms of businesses as well.
Business Management
Many people get into personal training because they want to help people, but you need to know the details of business registration or incorporation, licensing, zoning, budgeting, accounting, tracking your expenses, filing taxes, and more. It is worthwhile to take a small business course at a local community college if you are not familiar with these things.
Financial Investment
At the outset, you will have to spend money to get your business off the ground. Depending on your business model, you may need:
Business expenses: Website, business cards, liability insurance, health insurance, marketing costs, and continuing education courses to maintain your certification
Fitness gear: Cardio equipment such as a treadmill, weights, resistance bands, mats, weight bench, step, exercise balls, BOSU, and other balance and stability equipment
Other: Quality workout clothes, shoes, music system, water dispenser, towels
Marketing and Promotion
If you decide to set up your own business, marketing is probably the single most important thing you'll do to build a client base. Here are just some of the things you may need to get your name out there:
Networking: Do research locally to find out if you can join the Chamber of Commerce or some other group of professionals. You can also find groups through Meetup. Annual or regular expos, fairs, trade shows, or other community events are also great opportunities to network with industry professionals.
Referrals: Your existing clients can be a great source of marketing to their social circle. Offer discounts or a free session to the people they refer and benefits to the clients who make referrals.
Seminars: Offering free local or virtual seminars about exercise, health, diet, and related topics is often a great way to meet potential new clients.
Social media: Set up profiles on social media platforms like Facebook, Twitter, and Instagram so you have a way to communicate with clients and potential clients.
Website: Setting up your website can be as simple as getting a domain name and signing up with a simple website company. You can also work with a web designer to create your own custom website.

Advertising: Design, purchase, and distribute digital and print ads. Consider sponsorships—of local sports teams, perhaps—for added exposure in local markets.
Become Indispensable
Being successful as a personal trainer takes work, talent, skill, and experience. Getting a certification is no guarantee that you'll get clients or, more importantly, be able to keep those clients. How you train your clients is important, but how you treat them is even more important.
Attend conferences and workshops. It's amazing how much you learn from one weekend taking classes from experts. You also get a look at new equipment and can usually buy it at a discount. Your clients will appreciate new workouts and gear as well as your renewed enthusiasm.
Give regular assessments. Whether your clients want to lose weight or be stronger, set up an assessment every few weeks so they can see their progress.
Keep in touch. Make it a point to connect with your client outside of sessions. Send a quick email or text just to check in. Make and print workouts for them to follow on their own. Give them your favorite recipes, or send them interesting articles that pertain to their goals both inside and outside of the gym. It's little things like these that let clients know you're invested in their success and your relationship.
Listen. Being an active listener is the single most important thing you can do for a client. At the beginning of the session, make it a point to check in and see how they feel that day, and adjust the workout accordingly.
A Word From Verywell
Personal trainers have many job opportunities, with the need growing due to the rise in obesity and sedentary lifestyles. The world always needs new, enthusiastic trainers to get the word out about health and fitness. Take the time to learn what's involved in becoming a trainer before choosing your career.